In Working The Boxes we highlight any recent back issue purchases we've found buried in comic boxes or discovered on eBay that we think are worthy of further attention.
Up until a few years ago I never really cared for Robert E Howard's most successful literary creation, Conan: I was aware of him, and aware that the Marvel comics series was highly regarded, but I only had a basic idea of the character and I'd never even seen the Arnie movie, Conan The Barbarian (an admission I'm sure will be frowned on in some circles!). I was pretty certain that situation would always remain the same and I'd never give the character further investigation. Conan #0, published by Dark Horse in 2003, changed all that. I was impressed enough to return for the #1 issue, and have been hooked from thereon in. The title's consistently bowled me over with the quality of writing and art , and I'm not embarrassed to admit it: I'm a fan!!
So what about all the Bronze Age Conan books from Marvel? Would I get the same thrill I do from the current stuff or would they all seem a bit dated by today's standards? Only one way to find out: I took the plunge and picked up a pile of cheap back issues of Conan The Barbarian recently (all around #100 onwards - earlier issues are slightly more pricey!) to see how I'd get on.
You know what? This stuff is frickin' great, by Crom!
I should've known really: written by the vastly underrated Roy Thomas (underrated in the sense that, seeing how much amazing stuff he wrote he should be considered as one of the industry legends) with art by the late John Buscema (who's run on Avengers, inked by Tom Palmer, is pretty damn close to perfection), putting these two together meant you'd get a solid read at the very least. The issues I read exceeded expectations: action-packed, witty and highly addictive.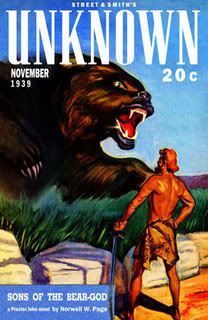 The main, complete arc in the bundle I picked up is an adaptation of the
Sons Of The Bear God
by Norvell W. Page which, from what I can gather through the magic of Google, is a pulp novel featuring
Prester John
and not the Barbarian himself. The arc runs from #109 to #112 of the comic and, whatever its origins, it's a damn fine adventure yarn.
It starts off with Conan and his reluctant companion, Erfu - a wannabe sorcerer - being attacked by the Sons of Shem on the outskirts of the "haunted" Devil Grass. Outnumbered, they flee into the "emerald sea" and it doesn't take them long before another battle erupts between Conan and a bunch of dwarves who have mysteriously managed to enslave a band of brawny warriors from Aesgaard.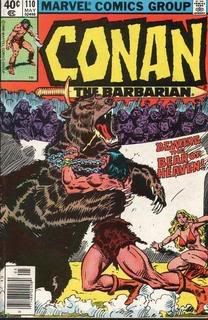 The following chapters take us too the dwarf city where Conan hooks up with an enchanting young lady - the unfortunately named Tossa (!) - gets forced into a gladiatorial arena to fight a massive bear, decides to overthrow the dwarf-king, and typically acts like a law unto himself.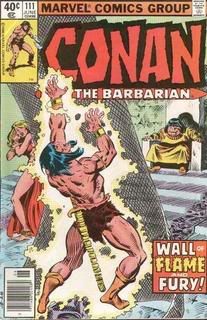 Thomas brings the character to life with ease, no doubt after having spent so much time putting words in the Cimmerian's mouth writing him had become second nature - he nails the character's unsuppressed disdain at so-called "civilized" cultures. Buscema always excelled at portraying muscular men (or women) in the throes of battle, and while this may not be the best example of his work you could find it's still beautifully evocative and dynamic.
So, count me down as full convert to Conan comics, be they old or new. I have no idea how this story stands up against other tales from the various books & magazines he appeared in during the 70s, but I'm guessing (and using the fact that I can't find any details of reprints as evidence and the original source material didn't even feature him) that this wouldn't rank as one of the most revered comic book adaptations of Howard's most famous creation. Which means there's a wealth of possibly even better material out there for me to get my hands on!!
I'll be searching through back issue boxes and eBay for more (any recommendations would be appreciated!) and would advise anyone who loves the character but is only familiar with the Dark Horse series, to take the plunge too - I'd bet money that you won't regret it!